Shop Equipment
Portable Air Over Hydraulic Jack

The Stertil-Koni SKB25-2 is high quality, truly portable service jack that's comfortable in a multitude of settings. Weighing in at only 60 lbs., this lightweight, two-stage workhorse has 25/10 ton capacity and is right at home in the shop or on the road. The ultra-portable design incorporates a 21.6" handle that folds for easy transport. Ideal for mobile service applications, the SKB25-2 also offers a wall-mounted bracket to allow secure storage while on the road.

Air Over Hydraulic Jacks for All Your Ground Support Equipment Needs

Running an airline on time requires superior Ground Support Equipment (GSE) and Steril-Koni is here to help. As the leader in heavy duty vehicle lift, we have a dedicated portfolio of robust, highly engineered air-over-hydraulic jacks for all GSE lifting situations – from small portable lifting requirements to efficiently raising powerful pushback tugs.

Air Over Hydraulic Jack Models

1.      Model S25-1, a single-stage jack for vehicles and machinery with a capacity of 55,000 lbs.

2.      Model SK25-1H, a single-stage jack for agricultural contractor machinery, trailers, and other high clearance applications, with a capacity of 55,000 lbs.

3.      Model SK25-2, a two-stage versatile hydraulic jack for buses and trucks with a capacity up to 55,000 lbs.

4.      Model SK40-4, a four-stage jack for ultra-low transit vehicles with a maximum capacity up to 88,000 lbs.

5.      Model SK50-3, a three-stage high capacity ergonomic jack for low-clearance vehicles with a maximum capacity up to 110,000 lbs.
Our accessories from Stertil-Koni are engineered to complement our wide range of lift models and provide maximum performance, durability and safety. Each lift category has its own selection of accessories designed for ease-of-use and increased productivity.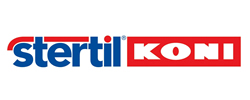 Hoffman Services is proud to distribute for Stertil- Koni, one of the world's leading lift manufacturers and suppliers. Stertil-Koni has an impressive and comprehensive range of lifts to suit a variety of situations including mobile lifts, wireless lifts, in-ground lifts, 4-post lifts, 2-post lifts and many accessories.