In-Ground Lift Accessories
Contact Adapters

Many varieties of contact adapters that provide vertical adjustment as well as differing contact patterns.

Contact adapter cart

Two styles of contact adapter carts are available.  One is free standing, similar to a table that is designed to be anchored to the shop floor.  One is a wheel model to allow easy relocation.  Both are designed to store all contact adapters as well as floor cover plates.

Remote Control

Corded pendant style remote controller allows the operator to manipulate the lift from any location.
Our accessories from Stertil-Koni are engineered to complement our wide range of lift models and provide maximum performance, durability and safety. Each lift category has its own selection of accessories designed for ease-of-use and increased productivity.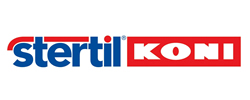 Hoffman Services is proud to distribute for Stertil- Koni, one of the world's leading lift manufacturers and suppliers. Stertil-Koni has an impressive and comprehensive range of lifts to suit a variety of situations including mobile lifts, wireless lifts, in-ground lifts, 4-post lifts, 2-post lifts and many accessories.