4-Post Lift Accessories
Lighting

LED lighting is available to ensure that work space around the lift is will illuminated.

Second Control Box

Additional control box to be installed to allow operation of lift from either side of the lift.

Tandem Lift Synchronization Kit

Switch and wiring kit to allow a pair of lights to be operated as two independent lifts or as a single married tandem lift.

Air in Runways Kit

Kit supplies parts and hardware to install a compressed air piping system into the platforms.

Extended Length Access Ramps

Ramps available in multiple lengths to facilitate access to the lift with low clearance vehicles.

Anti-Slip Plates

Self-adhesive, peel and stick aluminum diamond plates that can be fitted to the runways to provide anti-slip protection.

Specialty Ramps for 3 Wheel Vehicles

Unique ramps available to allow three wheel vehicles access to traditional four post lifts.
Our accessories from Stertil-Koni are engineered to complement our wide range of lift models and provide maximum performance, durability and safety. Each lift category has its own selection of accessories designed for ease-of-use and increased productivity.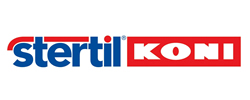 Hoffman Services is proud to distribute for Stertil- Koni, one of the world's leading lift manufacturers and suppliers. Stertil-Koni has an impressive and comprehensive range of lifts to suit a variety of situations including mobile lifts, wireless lifts, in-ground lifts, 4-post lifts, 2-post lifts and many accessories.