2-Post Lift Accessories
Swing Arm Accessories

– Vertical Adjusters: heights of 1.5, 3.0, 6.0 and 10.0 inches
– Contact Adapters: round rubber pad, flat steel pad with turned up corners, steel pad with serrated teeth, U-shaped pad or V-shaped pad
– In Arm Tool Trays: plastic trays that install in the swing arms to allow easy storage of tools, spare parts or hardware

Lighting

Fluorescent column lighting is available to ensure that work space around the lift is well illuminated.

Second control box

Additional control box to be installed to allow operation of lift from either post.
Our accessories from Stertil-Koni are engineered to complement our wide range of lift models and provide maximum performance, durability and safety. Each lift category has its own selection of accessories designed for ease-of-use and increased productivity.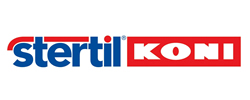 Hoffman Services is proud to distribute for Stertil- Koni, one of the world's leading lift manufacturers and suppliers. Stertil-Koni has an impressive and comprehensive range of lifts to suit a variety of situations including mobile lifts, wireless lifts, in-ground lifts, 4-post lifts, 2-post lifts and many accessories.