Heavy Duty Twin Post Lifts
The FREEDOM LIFT's stability and safety has been enhanced by innovative design and sophisticated construction and intelligent technology. The 2-post lift and lifting arms are streamlined and strong at the same time. Multiple automatic features- both mechanical and hydraulic – ensure maximum safety. It features an independent mechanical locking system which starts at just eight inches above floor level and continues up the entire height of the lift every 3 1/8 inches – providing the most mechanical locking positions in its category.
FREEDOM LIFT also delivers fast, smooth lifting, conveniently and reliably.
The FREEDOM LIFT comes in four models:
SK 2.16

with lifting capacity of 16,000 lbs

SK 2.20

with lifting capacity of 20,000 lbs

SK 2.26

with lifting capacity of 26,000 lbs

SK 2.30

with lifting capacity of 30,000 lbs
Each features a clean, ergonomic design distiguished by wheels-free lifting, telescopic swing arms with a wide range of usability and a design that requires no mechanical structure overhead. All of the models provides optimal safety through a symmetrical open floor design that optimize workspace in the shop.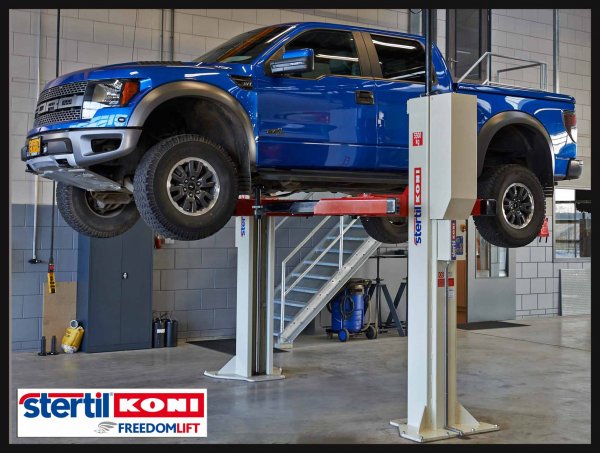 Some of the features include:
Symmetrical open floor design providing work and moving space in the workshop
Proportional hydraulic control valve system which allows smooth operation
Independent mechanical locking system with 3 1/8″ increments starting 8 inches from floor level
Short lifting and lowering times
Model SK 2.16 is executed with double telescopic support arms. the SK 2.16EFA is executed with extended flex arms.
For Models SK 2.20, SK 2.26, and SK 3.0, single and double telescopic arms sets are available.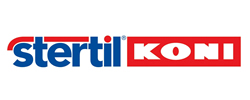 Hoffman Services is proud to distribute for Stertil- Koni, one of the world's leading lift manufacturers and suppliers. Stertil-Koni has an impressive and comprehensive range of lifts to suit a variety of situations including mobile lifts, wireless lifts, in-ground lifts, 4-post lifts, 2-post lifts and many accessories.