Mobile Column Lifts
Voltage Options

Power options included VAC and VDC.  VAC options are 220VAC/1 phase as well as 208-575 VAC/3 phase.  VDC option is 24 VDC.

Special Colors

Any special RAL colors can be provided upon request.

Extra Wide Forks

Specially designed for vehicles with large diameter tires.  This option is only available on models ST1065, ST1082 & ST 1100.  The extra-wide forks can handle wheel diameters up to R24.5 with a tire outside diameter up to 63 inches.
Our accessories from Stertil-Koni are engineered to complement our wide range of lift models and provide maximum performance, durability and safety. Each lift category has its own selection of accessories designed for ease-of-use and increased productivity.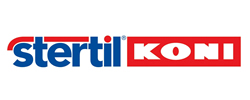 Hoffman Services is proud to distribute for Stertil- Koni, one of the world's leading lift manufacturers and suppliers. Stertil-Koni has an impressive and comprehensive range of lifts to suit a variety of situations including mobile lifts, wireless lifts, in-ground lifts, 4-post lifts, 2-post lifts and many accessories.