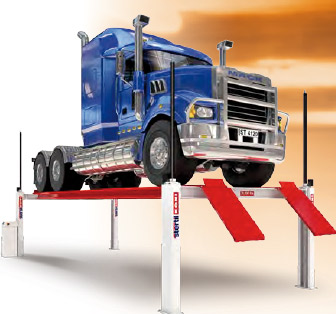 WEIGHT: 30,000 lbs capacity
USE: Urban Trucks, Buses, 3-Wheel Forklifts, Vans
FEATURES:
The platforms are available in lengths: 14'9″, 20'4″,26'2″ & 33′ are also adjustable
the wide platforms have low drive-on height, suitable for "low ground" clearance vehicles
the operational unit containing the control box and hydraulic pump can be placed on any post for convenience.
can be extended in a tandem configuration for longer vehicles
hydraulics with pressure relief and hose burst valves
independent gravity operated locking mechanism to prevent unexpected lowering.
electronic synchronization system for smooth, safe level listing and lowering.
splash proof electrical system
automatic overload protection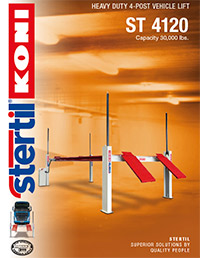 Download Brochure
Download
en español
Drive On Lifts from Stertil-Koni are ideal bus lifts and truck lifts. They are engineered to deliver a superior lifting solution with a maximum emphasis on safety and performance.
Some of the key features include high stability, low drive-on height, no cross beams, extensive locking positions, and state-of-the-art technology.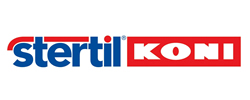 Hoffman Services is proud to distribute for Stertil- Koni, one of the world's leading lift manufacturers and suppliers. Stertil-Koni has an impressive and comprehensive range of lifts to suit a variety of situations including mobile lifts, wireless lifts, in-ground lifts, 4-post lifts, 2-post lifts and many accessories.