Heavy Duty Four Post Lifts
WEIGHT: From 10 to 25 tons
USE: Tractor trailers, buses, public works facilities
CONSTRUCTION MATERIAL: High-quality, high-tensile DOMEX steel
FEATURES:
drive on lifts have no cross beams fore or aft allowing a completely open floor
adjustable runways for multi-wheel base vehicles.
hydraulic system electrically controlled using potentiometers to monitor vehicle weight displacement and smooth synchronization.
programmable lifting height, lighting and foot protection.
combination locking pawl (solenoid activated) and metal ladders on carriage operate independently of drive mechanism
hose burst valve protection prevents rapid descent in case of hydraulic fluid loss.
operates as a synchronized pair or independently – necessary when lifting articulated buses, trucks and semi-trailers or with vehicles with an uneven weight distribution such as a truck and crane combination.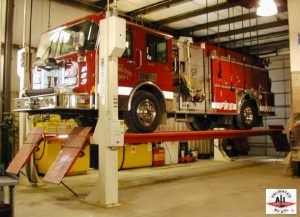 Low Drive-on Height: 27″ wide runways enjoy drive-on height of 8 5/8″ for ST4175 and 11″ for ST4250.
Expansive Lifting Height: With 75″ of lifting height.
Adjustable Runways: Runways can be adjusted laterally with a minimum range of adjustment of 6 inches.
Vertical Lifting: The lifts rise vertically (no overhang like a parallelogram). The ST-4250 rises at a rate of 72 seconds.
Flush Mount or Surface Mount: All models can be installed either recessed or surface mount.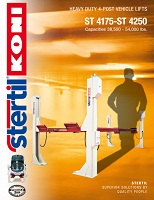 Download the Brochure
Download
en español
Drive On Lifts from Stertil-Koni are ideal bus lifts and truck lifts. They are engineered to deliver a superior lifting solution with a maximum emphasis on safety and performance.
Some of the key features include high stability, low drive-on height, no cross beams, extensive locking positions, and state-of-the-art technology.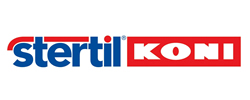 Hoffman Services is proud to distribute for Stertil- Koni, one of the world's leading lift manufacturers and suppliers. Stertil-Koni has an impressive and comprehensive range of lifts to suit a variety of situations including mobile lifts, wireless lifts, in-ground lifts, 4-post lifts, 2-post lifts and many accessories.