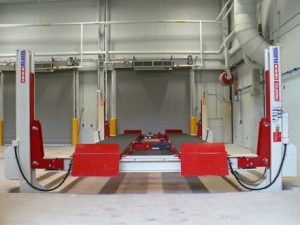 This new lift 4 post lift from Stertil-Koni is one of the most capable heavy duty lifts with a huge capacity of up to 132,000 lbs and is ALI/ETL certified. As with all Stertil Koni 4 post lifts, the ST4600 offers a very low drive on height, thereby ensuring easy access even for vehicles with low ground clearance.
In spite of its immense power, the ST4600 is simply operated using conveniently-positioned push buttons to provide smooth, accurate and controlled lifting.
The premium features of the lift include:
Available runway lengths in 15′, 20′, and 26′
Space between the runways is adjustable with minimum of 31″ up to a maximum of 65″
Lifting height is 74″(incredible height!)
Lifting time is 90 seconds in both the ascent and descent mode
Drive On Lifts from Stertil-Koni are ideal bus lifts and truck lifts. They are engineered to deliver a superior lifting solution with a maximum emphasis on safety and performance.
Some of the key features include high stability, low drive-on height, no cross beams, extensive locking positions, and state-of-the-art technology.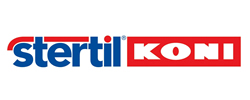 Hoffman Services is proud to distribute for Stertil- Koni, one of the world's leading lift manufacturers and suppliers. Stertil-Koni has an impressive and comprehensive range of lifts to suit a variety of situations including mobile lifts, wireless lifts, in-ground lifts, 4-post lifts, 2-post lifts and many accessories.