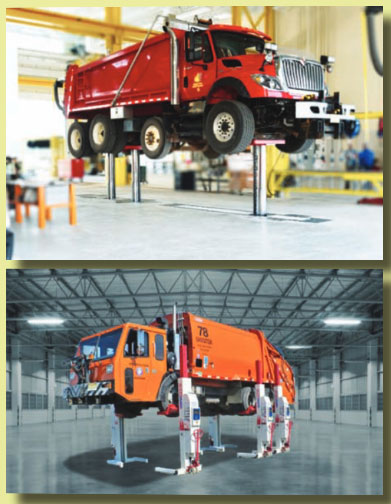 In Waste Advantage Magazine, Stertil-Koni was recently featured as a leading provider for waste management fleets. They highlight several reasons why the latest generation of heavy duty lifts have become critical for waste fleets including the fact that their trucks are often heavier than they have ever been so it's important to have equipment that can accommodate. In addition, the weights are usually different between front and rear axles so having "smart" lifts that can communicate with each other and make micro-adjustments ensures and smooth and safe operation.
Waste companies are also trying to become more environmentally aware and given the Stertil-Koni EARTHLIFT is made from components that are 98% recyclable, it has become one of the more popular options.
In some cases, floor space can be an issue so the SKYLIFT is often used in these cases to offer a full vertical rise and give access to the undercarriage from all sides.
Two other popular heavy duty lifts for waste fleets include the ECOLIFT, the inground scissor lift system with its 30,000lb capacity per scissor and the DIAMOND LIFT with its high power inground telescopic piston with a capacity of up to 35,000lb per piston and a locking system for maximum safety.
For more about Heavy Duty lifting for waste management fleets, view their January 2021 magazine article.