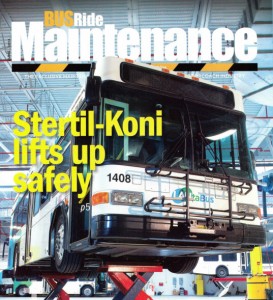 Stertil-Koni was featured in Bus Ride Maintenance, a prominent insert in Bus Ride magazine. The article discusses safety issues that are addressed by the High Lift Wheel Dolly, and the growing demand for the Stertil-Koni ECOLIFT. You can read the article here, or see the article in Bus Ride Maintenance here.
Lifting Up Safely
As pressure mounts in transit agencies throughout North America to improve efficiency and reduce workplace hazards, Stertil-Koni says that one relatively low-tech and unsung hero has emerged – the high lift wheel dolly.
According to a recent industry overview by heavy duty vehicle lift manufacturer Stertil-Koni, Stevensville, MD, the high lift wheel dolly delivers two essential advantages in today's modern fleet maintenance shop.
"First, the wheel dolly allows proper alignment of a dual tire assembly with the brake drum to the asle tube to be completed efficiently and accurately," says Peter Bowers, technical sales support manager at Stertil-Koni. "Second, it dramatically lowers the occurrence of back injuries and abdominal strains because wheel removal is completed at an altitude which is higher than floor level and in line with technicians working in a fully standing position."
The Stakes are high. According to recent finding by the University of Arizona Risk Management Services, musculoskeletal disorder injuries "account for more than one-third of all occupational injuries and illnesses each year." The study also showed that "most of these injuries are preventable."
Enter the high lift wheel dolly. It is used for removal and installation of single and dual wheels on raised buses and has proved particularly effective for brake work.
"Recent enhancements have made it even more effective," Bowers says. "The latest version of the high lift wheel dolly from Stertil-Koni is stronger, taller and has a lifting capacity up to 1,000 pounds. In addition, it is fully hydraulic and powered by either pneumatic or 12 VDC battery."
For added durability and convenience, Stertil-Koni says nylon rollers minimize maintenance and make the wheel dolly truly mobile in the modern maintenance facility.
The ECOLIFT meets growing demands
Stertil-Koni says its ECOLIFT is the industry's first, U.S. patented, ultra-shallow, full-rise axle-engaging in-ground scissor lift.
Available in both a two-scissor or three-scissor configuration, the ECOLIFT's total lifting capacity is 60,000 pounds and 90,000 pounds respectively – at 30,000 pounds per scissor.
Stertil-Koni says the benefits of ECOLIFT include:
High pressure, low volume hydraulics, with only 3.5 gallons per scissor
Ultra-sallow pit – only 34 inches – enables quick installation
Ideally designed for situations with bedrock, high ground water, or other difficult soil conditions
Extra safe because mechanical locks are designed to allow the lift to park on the locks
Electronically synchronized for maximum safety and convenience
Easy maintenance and service as all power units and control components are located above floor level
ALI/ETL certified for added safety
Available in various travel ranges
The company says that options include: detachable, wired remote control; adapters; adapter stands' bio degradable hydraulic fluid; automatic wheel base positioning; and special lift configurations.