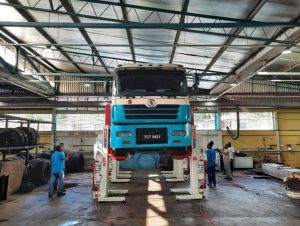 Stertil-Koni brings many benefits to companies and services around the world and recently added a new location to their list, Trinidad & Tobago as they were selected by the Water & Sewage Authority (WASA) whose techs now have the ability to safely raise and lower water and sewer trucks, cane trucks and other heavy equipment, significantly increasing their efficiency. Their purchase of the popular ST-1085's mobile column lifts really allow for a more portable approach to handling this huge task.
According to Stertil-Koni's rep in Trinidad & Tobago "Now, vehicle lifting for WASA is much more convenient and, because these lifts are truly mobile, it can be done virtually anywhere on the customer's site."
A even bigger achievement here is their contribution to WASA aiming for the goal of providing the population with "access to a reliable and high quality water supply on a 24/7 basis." The more their equipment is operational, the closer they are to achieving that goal.
View the press release.