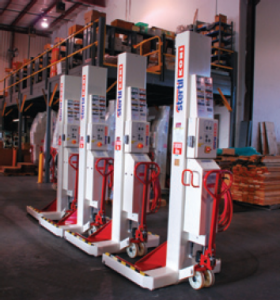 In the latest newsletter from Stertil-Koni, they explain why the heavy duty truck lifts in the New York Sanitation vehicle maintenance shop continued to operate even after being submerged in 39 inches of river water! The Stertil-Koni 1082 models are 5 years old, and didn't miss a shift.
Three design factors helped render them impervious to the storm:
The Stertil-Koni Hydraulic mobile lift is designed with a cylinder rod that is not subject to damage from the elements and cannot be contaminated by water, dust, oil or other corrosives.
Electrical and other critical components of the Stertil-Koni Mobile column lifts are placed at a location higher up on the lift.
Hydraulic technology is much more forgiving in the event of a flood or  water damage than mechanical technology.
Check out the entire article in the Stertil-Koni Connection.