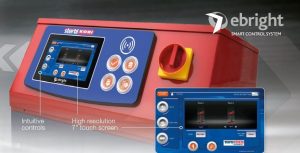 Heavy duty vehicle lift leader Stertil-Koni announced that it has incorporated its advanced, full-color, touch-screen control console, known as the ebright Smart Control System, into the company's popular, state-of-the-art high-pressure in-ground telescopic piston lifting system – the DIAMONDLIFT.
The addition of the ebright Smart Control System in the above ground console makes the ongoing operation and monitoring of DIAMONDLIFT even easier – placing all critical information directly at the fingertips of the person who needs it most – the busy technician on the shop floor.
In making today's announcement, Stertil-Koni President, Dr. Jean DellAmore noted, "Stertil-Koni has brought the very best in engineering, digital control and continuous operator feedback to heavy duty vehicle maintenance shops across North America with our distinctive, 7-inch, full-color touch-screen control system. Now, we are extremely pleased to bring the ebright Smart Control System to the DIAMONDLIFT—delivering intuitive ease-of-use in an extremely familiar, operator- friendly format that resembles today's most popular tablet devices."
Read the entire press release here.