October 27, 2014 –According to a new industry overview from Stertil-Koni, the leader in heavy duty vehicle lifting systems, the increased heat generated by the growing use of electric-hybrid and compressed natural gas (CNG) engines in commercial vehicles is leading to a transformational shift in heavy duty lifting.
The stakes are high and operating costs for transits, municipalities and fleets could move even higher.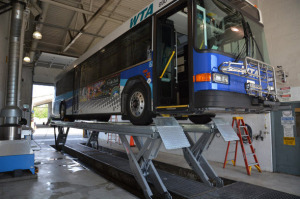 Here is what's at play: The new greener engines typically run up to 50% hotter than conventional engines; and, while that in itself is not a problem, when you combine those searing temperatures with the typical road grime that accumulates on the undercarriages of these "green" commercial vehicles, engine life can be unnecessarily and dramatically cut short.
In response, vehicle maintenance shops throughout North America are increasingly turning to heavy duty vehicle lifting systems that are specifically engineered to be water resistant – thereby permitting technicians to pressure wash commercial vehicle undercarriages in a safe, efficient and operator-friendly manner.
According to Stertil-Koni's Technical Sales Manager, Peter Bowers, "Heat is the enemy when it comes to preserving an engine, and grime in and around the engine compounds the problem. It increases the heat and accelerates engine degradation. Because the new alternative fuel engines run hotter than conventional models, it is increasingly important to be able to properly clean the undercarriages of vehicles to achieve a maximum lifespan for your fleet."
As the leader in heavy duty vehicle lifts, Stertil-Koni offers several water-resistant systems. For example, the company's increasingly popular SKYLIFT series, a true vertical rise, clear floor concept platform lift with no crossbeams or columns, is available in a Wash Bay version. It features hot-dip galvanized platforms, three- layer mono-pox coated lift supports and a stainless steel control box to provide superior protection for the electronic controls.
In addition, Stertil-Koni's famed mobile column lifts are NEMA 4 compliant, meaning that the enclosures are water-resistant and can even withstand low- pressure water from direct hose spray.
Concluded Dr. Jean DellAmore, president of Stertil-Koni, "We pride ourselves in listening very carefully to our customers' needs, and then designing the ideal, heavy duty lifting system to meet their specific requirements. In the instance of ALI-certified, water-resistant vehicle lifts, our customers can rest assured that with Stertil-Koni they have a safe, long-lasting solution to ensure that their investments in the new, "green" engines are not undermined by a real-world problem, excessive heat, that can be expertly mitigated thanks to an advanced lifting system, represented by the Stertil-Koni SKYLIFT."
About Stertil-Koni USA, Inc.
Stertil-Koni is the global market leader in heavy duty vehicle lifts – bus lifts and truck lifts – and is the preferred supplier to the world's leading companies in the truck and bus industries. Stertil-Koni's breadth of products meets all ranges of lifting needs and includes mobile column lifts, two-post, four-post, in-ground piston lifts, parallelogram lifts, half-scissors and its innovative axle-engaging, in-ground, scissor lift configuration, ECOLIFT. Stertil-Koni is also now installing DIAMOND LIFT across North America, a full rise telescopic piston lift designed to set new standards in precision heavy duty lifting. Stertil-Koni is headquartered in Stevensville, Maryland and has a major production facility in Streator, Illinois.