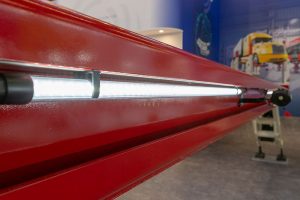 The SKYLIFT has a great new accessory that meets the challenge many mechanics face in their work space. The Stertil-Koni LED lighting fixes a potential safety hazard where dim and shadowy lighting condition impact productivity in the workshop when working on the heavy duty 4-post lifts.
The new LED lighting systems include:
·         Pre-assembled 40" light tubes with transformer and mounting brackets;
·         Easy installation and expandability with a modular "plug and play" system;
·         Slim-line design;
·         Safe low voltage (24V);
·         Water resistance (IP 65) – suitable for SKYLIFT Wash Bay applications; and
·         Eco-friendly, energy-efficient LEDs
For more information view their press release.