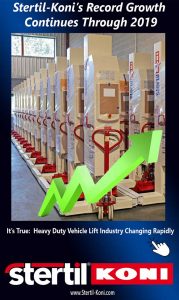 Hoffman Services Inc. has a very close partnership with heavy lift manufacturer Stertil-Koni and we feel their products and their business practices are the best in our industry today. So we're pleased to learn that they have achieved record sales growth for the first half of 2019 and we feel this is an indicator that they are doing things right.
Our own goal is the provide the best possible product and service for our clients and we believe that Stertil-Koni offers the best chance for us to do so. Their emphasis on safety and performance aligns closely with our own and their tireless efforts in product development to achieve that goal makes our decision to partner with them a no-brainer.
According to Stertil-Koni President Jean DellAmore feels the reason for their growth "has been an enhanced focus by vehicle maintenance facility directors on safety, performance and efficiency in all aspects of their business – especially vehicle lifts. That's where Stertil-Koni's results demonstrate our strategic advantage and ability to outpace the competition."
We look forward to working alongside Stertil-Koni for many years and to see continued growth and continued focus on Safety and Performance in our industry. Read their full press release here.