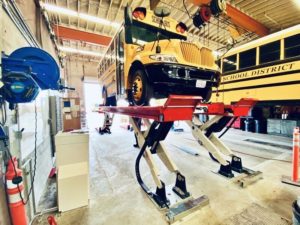 Stertil-Koni prides themselves on innovation as a heavy duty lift leader and meeting new challenges is a considerable part of that. As vehicles continue to embrace electric power more often, certain specific requirements come into play for servicing as access to battery packs, wiring and thermal management systems becomes increasingly critical. With that in mind, the Stertil-Koni SKYLIFT has become the go-to item for electric vehicle lifting, giving complete undercarriage access with two independent runways, vertical lifting, no crossbeams, no overhang, no base frame, dependable hydraulics, safe mechanical locking and free access to vehicles from all sides.
The Twin Rivers Unified School District is currently home to the largest fleet of electric vehicle school buses in North America so obviously they turned to Stertil-Koni and their SKYLIFT throughout their facility. According to their vehicle maintenance manager ""Keeping the high voltage systems safe is vital. These vehicles require complete undercarriage access for inspection and repair of battery packs, wiring, and thermal management systems." Some additional unique requirements of heavy duty electric vehicles:
EVs require fewer brake services, as regenerative braking reduces brake component wear.
EVs do not require routine oil changes but may require servicing for battery coolant systems.
Undercarriage vehicle access for EVs is critical, as drive motors, batteries, and control devices are located beneath the vehicle.
Weight distribution in EVs varies greatly to account for battery packs.
Finally, EV construction may vary by manufacturer, with some built on standalone, purpose-built fiberglass chassis requiring special attention to lifting points.
Read the full overview of how Stertil-Koni helped the Twin Rivers Unified School District get their workshop set to accommodate their fleet of EV buses.