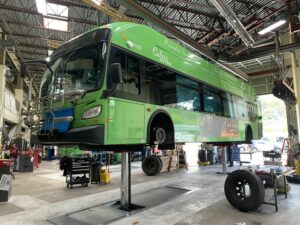 The Stertil-Koni DIAMONDLIFT once again proves its versatility after being chosen for Culver City public vehicle maintenance facility.
With a fleet that includes nearly every type of vehicle including fire trucks, police cars, buses, refuse trucks and many more, their choice for selecting and installing the telescopic piston DIAMONDLIFT not only gives mechanics a versatile working platform but also the highest level of safety and ergonomic comfort. Additionally the Continuous Recess option is specifically engineered for vehicles with low ground clearance, perfect for city transit and articulated buses.
As with all Stertil-Koni partners, Culver City received top-notch training and servicing to ensure minimal downtime and continued performance and safety. View more details.