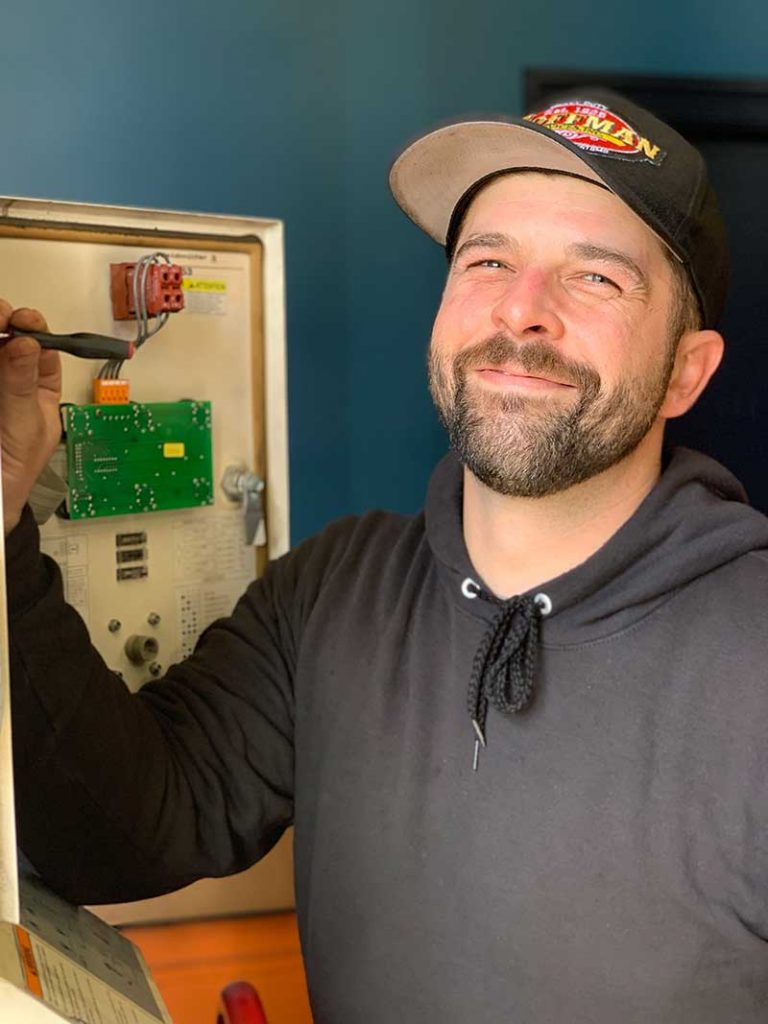 Hello Nick. Thank you for taking the time to interview with us.
Nick: No problem at all.  How may I help?
As with most of the employees at HSI that are in the field, we just want to get to know you better. And the customers will appreciate knowing who you are and where you come from.  Enjoying your day?
Nick:  yes. Glad to have a break ? ask anything.
We won't tell the bosses…So Why Hoffman Services, Inc.?
Nick: I saw a ad come across ziprecruiter looking for a lift technician and wondered – what's that?  I skimmed through and read and I found a part that said "we will invest in you if you invest in us" and that really spoke to me. I want to work for a company that cares about the future of the company, as well as the future of the employees. A company that has continuous growth and I'm glad I was chosen by HSI!
That's wonderful. What experience did you have?
Nick: I've always worked with my hands and have always enjoyed doing so. I have experience in several fields such as carpentry, HVAC, plumbing, and pump service and installation. Pump service and installation entailed some troubleshooting many different nuances experienced by the customer which required me to not only work with my hands, but with my head as well. Through a series of deductive reasoning I would arrive at the solution, fix the the issues, and leave with another satisfied customer. A happy customer was my priority and would put a smile on my face as well.  I applied and beat out a few other technicians for the job.  Hoffman Services, Inc. training program is second to none.
What's your greatest strength?
Nick: I feel that my greatest strength is the ability to adapt. In the field you may run into situations you have not come across before. The ability to adapt in new situations, and think critically to arrive at a solution to the problem is key. As I have come to understand, there are numerous lifts, parts, accessories and this has helped me immensely while working at HSI. They work on lifts, air compressors, cranes, lubrication systems, etc and I have adapted to everything so far.  Plus the schools they have sent me to also helped immensely.
What would you like the future you to know?
Nick: I'd like the future me to know that Hoffman Services, Inc. was absolutely the right choice. I'm sure he'll know this because he'll still be working hard and happy with the Hoffman crew and learning each day. From top to bottom, they work together, they discuss everything, and create a environment that I want to stay part of for the rest of my career.
How was the training program with Hoffman Services inc.?
Nick: The training program was stellar. All the techs I have had the honor of working with are extremely intelligent, well mannered, and have steered me in the right direction every step of the way. They give credit where credit is do and build you up in self confidence. I started out with one of their master techs – he helped me understand the ins and outs of their main product lines. When you have thousands of units in the field like they do, you need to make sure you understand fully before touching any electronics, hydraulics, cables, etc.  Then they had me work with another master technician in a different field, then another, then another, and so forth.
How does it feel to be on a diversified crew that puts safety first?
Nick: It feels great! I can breathe a sigh of relief. I have worked for people in the past where my health or safety wasn't a second thought or or even an afterthought. I am extremely relieved to be with a crew where safety is the number one priority. A safe employee is a happy employee. When I leave for a job perhaps from there Newark headquarters – someone will always say, " Be safe!"
You're in your thirties now, how has your experience level progressed since coming aboard?
Nick: The more broken lifts I run into in the field, the better tech I will become. Each day that passes I have learned something new. I'm fully confident that as I work side by side with the HSI crew, I will become a technician that they are proud to say "he's our guy!"
I'm sure they already are saying that. Anything else you want to add?
Nick: I'd like to thank the Hoffman Services, Inc. family for giving me the opportunity to prove myself, and for being so kind and accepting from the gate.  I've never met a more dedicated company in my life!  Despite the events that the world is currently going through, they have let nothing slow them down with working with me and helping me appreciate a even better work ethic than I had coming in.
Thank you Nick for taking the time out of your busy schedule to sit down with us.
Nick: Thank you! Was my pleasure.