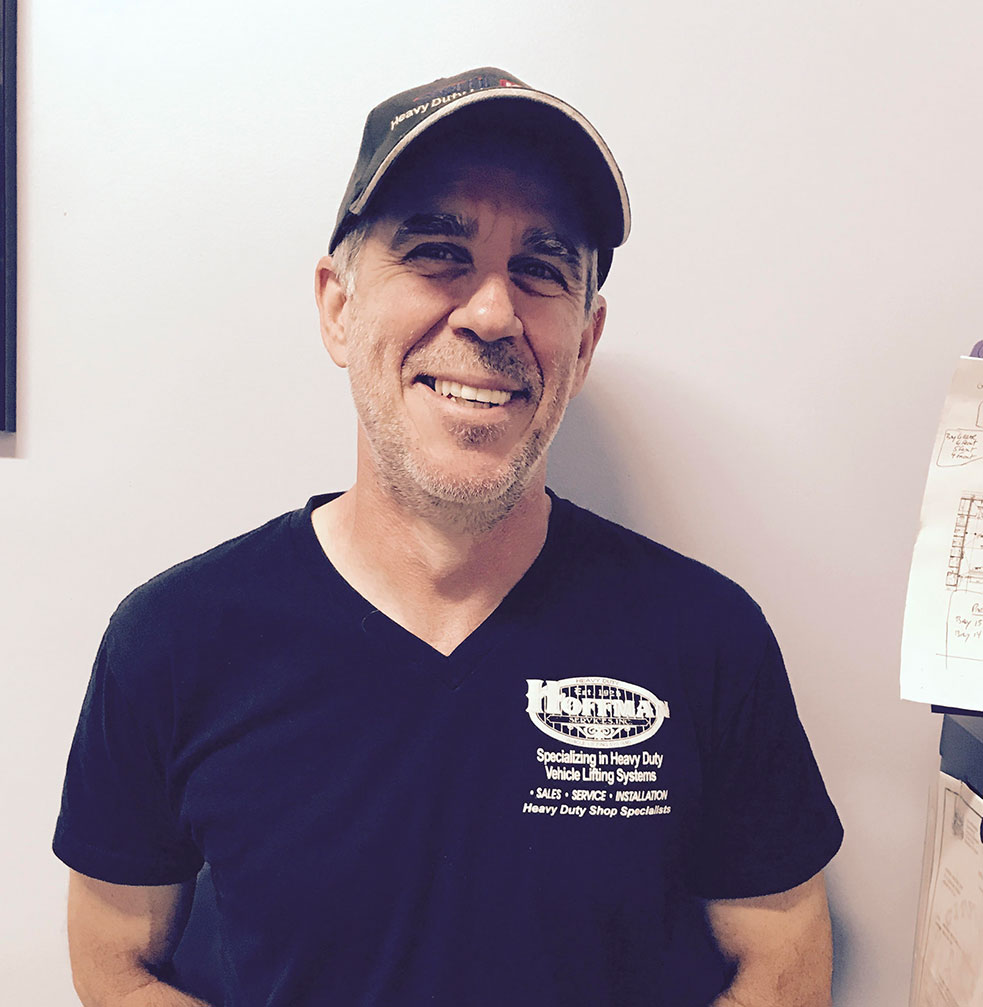 Interviewer: Good Morning Mike! How are you?
Mike: Good. What's going on?
Well we are performing interviews with all of the Hoffman Services Inc. employees so all of our followers out there can get to know you.
Mike: Great. This stuff makes me nervous.
Can't I just fix some lifts? : )
No need to worry we will be done in no time.
Mike, we know that you are extremely busy for Hoffman Services Inc., what is your official title?
Mike: I am the Senior Mobile Lift Technician. There isn't a Mobile Column Lift that I can't fix… and we fortunately can get all the parts for them. So I stay well-equipped by Ben and Matt.
That's great. They have mentioned that you are an important piece to the team here. How long have you been with Hoffman Services Inc.?
Mike: I am coming up to 3 years with Hoffman Services Inc. I came from the industry.
You came on board at Hoffman Services Inc. with training that not too many technicians have in the United States; we hear that you are an expert in electronics?
Mike: Yea, I have a degree in electrical engineering and it comes in handy with tracing out electrical problems from column to column.
Wow that's great!
What do you find is your greatest struggle at Hoffman Services Inc.?
Mike: I would say being everywhere at once. Customers always want you "here now" or yesterday as it were. When they're down, they're down. And we at Hoffman Services Inc. pride ourselves on having a 24 hr response time / turn around time, most of the time, with this stuff. Personally, I can be found anywhere from Ocean City, MD up to Albany, NY – so you catch my drift… we are everywhere.
That is an extensive territory, but then again, we have heard that you are one of the best technicians in the whole industry, so we can understand you trying to be everywhere.
What do you attribute that to?
Mike: I would say… it's my desire to help. Both Ben and Matt have always been great to me, even before I joined their team.
I have to admit, their personalities have rubbed off on me even more.
I felt like I was a pretty likable guy before, but now I can be even better. My desire to help, coupled with backing of Hoffman Services Inc. has made me the technician that I am.
Good to hear. Everyone we have spoken to at Hoffman Services Inc. seems to be a stand-up person, and we see that you are no different. That's wonderful.
We also hear that you are a fisherman?
Mike: Oh yea, on the weekends I go out on my boat and enjoy the water. When I'm not under a lift, I'm on a boat. It's great!
Can we come?
Mike: Sure, just bring the poles and some drinks.
We're good to go!
Maybe after we finish this up. What's your favorite quote?
Mike: I would say, "…if I could catch the engineer who made this, bring him into the field, and then fire him!" I find so much stuff over engineered today – why can't things just be made simple? Plug and play.
Instead it needs a new harness, new coupling, new this, new that… the industry can be too complicated sometimes. I wish it were simpler at times… it sure would make my job easier.
What has been your favorite project to work on?
Mike: I would have to say, the massive project of over 15 Stertil-Koni USA Sky Lifts I worked on as part of the install team of Hoffman Services Inc.for the State of NJ. To work with so many, to see the well-oiled machine (which we call ourselves) operate independently yet together was awesome. And in only a week we were done. So many moving parts… yet it all went together seamlessly.
We hear that. That's a great! Mike thank you for your time and keep up the great work.
Mike: No problem. Thank you.