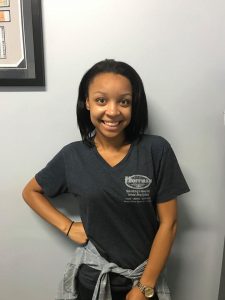 Interviewer: Hello Kayla. How are you?
Kayla: Good. Thank you for doing this with me.
Interviewer:No problem. We hear you are the newest member of the Hoffman Services Inc. family and you seem to be doing everything. We appreciate you taking the time for us.
Kayla: No problem. Busy, busy, busy, here.
Always something to do.
Interviewer: When did you start at Hoffman Services Inc.?
Kayla: January 2017
Interviewer: What is your official title at Hoffman Services Inc.?
Kayla: Jr. Administrative Assistant
Interviewer: What do you do daily at Hoffman Services Inc.?
Kayla: I assist in daily office activities. This includes answering phones calls and relaying them to the technicians, receiving checks, work orders, and of course taking care of all the Hoffman Services Inc. "behind the scene" needs. Even if it's restocking the fridge, consulting on promo items with our media team, ordering / organizing lunches with &/or for the staff… Whatever is needed, I'm their assistant
Interviewer: What struggles do you find working as a Jr. administrator assistant in the offices?
Kayla: The only struggle I have, is not as a Jr Administrative Assistant, but rather with my commute to get to Hoffman Services Inc. Traffic can be annoying and I come from pretty far away to be here, so that can be a challenge. But, Hoffman Services Inc. wanted me here, so when I became available, the Hoffman Team swooped right in. They placed me at their Newark location and the drive has been tough but great too!
Interviewer: What's the most important project you have worked on at HSI?
Kayla: The most important project I have worked on is probably one of the many direct mailers that we have done. Besides gathering all the addresses and company names, I had to ensure that the thousands we have sent out had the proper literature that would best apply to the customer. We were able to secure a few mobile lift sales on my first one, which was awesome; even a Sky lift by Stertil-Koni USA.
Interviewer: Wow! That's great news! First one. Good for you. We know hard work goes into those and a lot of effort. I'm sure the Hoffman Services Inc. team took care of you?
Kayla: Absolutely! The thrill. They have a work ethic here that I am trying to keep up with. Always hustling, always working, always out there, phone calls, the works. I am trying my best.
Interviewer: We cannot proceed with this interview without saying, your hand bag is gorgeous! Who is your favorite designer?
Kayla: Favorite designer? In my price range, of course is Steve Madden, shoe wise. He takes up around 75% of my shoe collection. Hand bag wise, Hermès!
Interviewer: What's the atmosphere like Hoffman Services Inc.?
Kayla: The atmosphere at Hoffman Services Inc. is super enjoyable! Everyone here never fails to make me laugh, there has yet to be a day I dread coming here. I worked for another company and it was always so cut throat… do this, do that. Usually understaffed, overworked, but at Hoffman, it's great.
Ben and Matt know how to run a company… and they do it well!
Interviewer: How did you end up with Hoffman Services Inc.?
Kayla: Hoffman was aware I was working for another company, and when my position was abruptly eliminated, they graciously offered me this job.
They knew I wanted to work for them, and I have been here ever since!
Interviewer: We appreciate you sitting down with us this morning Kayla. Keep up the great work !
Kayla: No problem. Back to work!