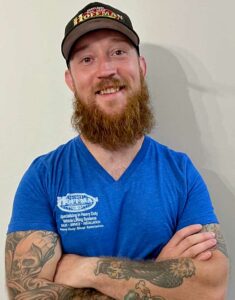 Eric Slahor – Technician
Thank you for sitting down with us. Tell us a little about yourself ? 
Eric: My name's Eric. Outside of work you can find me spending time with my family. I enjoy being outside in nature, riding my motorcycle and staying active in the gym and doing Brazilian jiu jitsu. I'm a bit of a history nerd as well.
How many years have you been a mechanic?
I was a mechanic professionally for about 12 years. I've always been fascinated with engines from a young age and loved tinkering on them.
What made you want to make a career change?
Honestly, I got burnt out with the auto/truck repair field. The field as a whole doesn't offer the opportunity or growth that I look for. I still have a passion for mechanics and picking up a wrench and getting my hands dirty, especially for vintage pre 70's cars and motorcycles.
What are your greatest two strengths? 
I'd say my two greatest strengths would be my constant desire for self improvement and my patience.
How has the training been so far with your HSI? 
It's been great! Everyone here is very willing to share helpful knowledge and work with me as I enter this new-to-me field.
What would you say is the one thing you would like to get better at? 
Discipline, I'm always trying to improve my discipline throughout different areas of my life and make it a little stronger everyday.
How is the atmosphere at HSI? Conducive for learning? 
HSI has an incredible atmosphere! Very conducive to learning as everyone is very friendly and helpful.
What would you like everyone to know about you ?
I'd say I'm a fairly traditional hardworking family man who is trying to give my son a great life and enjoying the process while doing so.