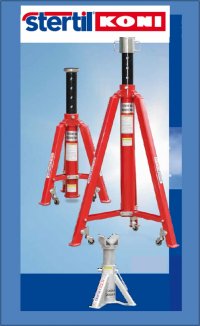 Stevensville, MD, September 29, 2015 – Unheralded, unglamorous and perhaps unexciting for the uninitiated, vehicle support stands are nonetheless increasingly in strong demand in vehicle maintenance shops across North America – notably transit agencies – as the focus on safety continues to rise, noted a recent industry analysis from heavy duty vehicle lift leader, Stertil-Koni.
According to Peter Bowers, technical sales and support manager at Stertil-Koni, "Safety is always mission number one. That's why support stands are so essential. They are a secondary support device, engineered to be used to support raised trucks, buses and other vehicles to help facilitate a broad range of maintenance procedures."
Typically, support stands are used in groups of four, but in some instances, a set six or eight is used. Regardless of the number of stands employed, their combined capacity must always match the lifting capacity of the vehicle lifting system being used to raise the truck or bus.
"Because of the added safety factor, industry-wide use of, and demand for support stands has escalated measurably," Bowers continued.
For its part, Stertil-Koni offers support stands in capacities ranging from seven (7) up to 18 tons per stand. What's more, the advent of folding stands has also spurred greater usage. "Folding stands are a big development in our industry, Bowers added. "They are less expensive to ship and easier to store—requiring far less space on the shop floor."
Industry experts also note that the ergonomic design of stands promotes greater safety in the work place. In addition, all Stertil-Koni axle stands are thoroughly tested with a static load based on 200% of the rated capacity.
Concluded Bowers, "Support stands are all about safety, performance and efficiency. They are rarely in the spotlight, but knowledgeable professionals know that they definitely are a true value-add for virtually all vehicle maintenance facilities."
About Stertil-Koni
Stertil-Koni, a brand of the Stertil Group, is the global market leader in heavy duty vehicle lifts – bus lifts and truck lifts – and is the preferred supplier to the world's leading companies in the truck and bus industries. Stertil-Koni's breadth of products meets all ranges of lifting needs and includes mobile column lifts, two-post, four-post, in-ground piston lifts, parallelogram lifts, half-scissors and its innovative axle-engaging, in-ground, scissor lift configuration, ECOLIFT. Stertil-Koni is also now installing DIAMOND LIFT across North America, a full rise telescopic piston lift designed to set new standards in precision heavy duty lifting. Stertil-Koni USA is headquartered in Stevensville, Maryland. Stertil-Koni has production facilities in Europe in The Netherlands, and in the USA in Streator, Illinois.