STEVENSVILLE, MD, August 6, 2014 – Stertil-Koni, the leader in heavy-duty vehicle lifts, today announced the launch of a new official blog, Vehicle Lift Connection. The blog will feature tips, tricks, product updates, news, features, interviews and other valuable content focusing on the heavy duty vehicle lift community.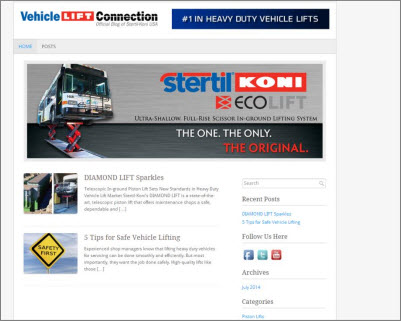 Located at: www.VehicleLiftConnection.com, the blog is designed to become the go-to source for useful and engaging information for anyone who works on heavy-duty vehicles.
One of the first posts on the blog explores five tips for safely operating vehicle lifts in a shop environment. Topics covered include proper stability and positioning, pre-lift checks, safe operation, security and maintenance.
Another post on Vehicle Lift Connection is an in-depth look at new developments surrounding in-ground piston lifting technologies, with a focus on the DIAMOND LIFT, Stertil-koni's start-of-the-art in-ground telescopic piston lift. In an interview in the post, Matthias Lennemann, Stertil-Koni USA's sales manager for heavy duty in-ground lifts, explains how the DIAMOND LIFT helps customers save time and money and operate their shops more safely and efficiently.
In making today's announcement, Dr. Jean DellAmore, president of Stertil-Koni USA, noted, "We are pleased to announce the kickoff of Stertil-Koni USA's official blog. In the coming months, readers will learn more about the people and products behind Stertil-Koni and will get a chance to interact with us, not only as customers but as friends," added Dr. DellAmore.
Future posts on Vehicle Lift Connection will share additional best practices and helpful information for the heavy-duty vehicle lift industry. Updates will also connect Stertil-Koni's customers to the talented men and women who serve them every day on the company's staff.
Dr. DellAmore added, "We are a committed and passionate group and we truly believe that our life's work is to create exceptional, safe and environmentally-friendly lifting products so that mechanics can safely lift the vehicles they work underneath every single day."
"In my long career I have never worked with a group of more dedicated people than the folks who work for Stertil-Koni," said Dr. DellAmore.
About Stertil-Koni USA, Inc
Stertil-Koni is the global market leader in heavy duty vehicle lifts – bus lifts and truck lifts – and is the preferred supplier to the world's leading companies in the truck an bus industries. Stertil-Koni's breadth of products meets all ranges of lifting needs and includes mobile lifts, two-post, four-post, in-ground piston lifts, parallelogram lifts, half-scissors and its innovative axle-engaging, in-ground, scissor lift configuration, ECOLIFT. Stertil-Koni is also now installing DIAMOND LIFT across North America, a full rise telescopic piston lift designed to set new standards in precision heavy duty lifting. Stertil-Koni, the inaugural sponsor of National Lift Week™, is headquartered in Stevensville, Maryland and has a major production facility in Streator, Illinois.