Download the FREEDOM LIFT brochure here.
Stevensville, MD – Stertil-Koni, the leader in heavy duty vehicle lifts – notably truck lifts, bus lifts and heavy duty vehicle lifts — today announced the introduction of the FREEDOM LIFT, a new series of heavy duty, hydraulic 2-post lifts providing exceptional lifting capacity and wheels-free access.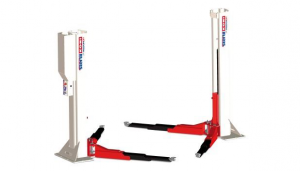 The FREEDOM LIFT models just launched have a lifting capacity of 16,000 lbs. and feature a clean, ergonomic design distinguished by wheels-free lifting, telescopic swing arms with a wide range of usability and a design that requires no mechanical structure overhead. The product provides optimal safety through a symmetrical, open floor design that optimizes workspace in the shop.
The two FREEDOM LIFT models just introduced are available for delivery in the fourth quarter of 2013 and consist of FREEDOM LIFT:
SK 2.16 with double telescopic arms, and
SK 2.16EFA with extended flex arms.
In keeping with Stertil-Koni's focus on safety, performance and durability, FREEDOM LIFT is robotically welded for ultimate lifting precision and manufactured with high-grade carbon steel. It features an independent mechanical locking system which starts at just eight inches above floor level and continues up the entire height of the lift every 1 ¼ inches – providing the most mechanical locking positions in its category. FREEDOM LIFT also delivers fast, smooth lifting, achieving a maximum height in just 58 seconds.
In making today's announcement, Stertil-Koni president, Dr. Jean DellAmore stated, "The FREEDOM LIFT represents the state-of-the-art in 2-post lifting technology. It uniquely combines wheels-free access, rapid lifting and multiple high-end safety features, which combine to make it ideally suited for a broad spectrum of two axle, para-transit and service-type vehicles."
About Stertil-Koni USA, Inc.
Stertil-Koni is the global market leader in heavy duty vehicle lifts – bus lifts and truck lifts – and is the preferred supplier to the world's leading companies in the truck and bus industries. Stertil-Koni's breadth of products meets all ranges of lifting needs and includes mobile column lifts, two-post, four-post, in-ground piston lifts, parallelogram lifts, half-scissors and its innovative axle-engaging, in-ground, scissor lift configuration, ECOLIFT. Stertil-Koni has also recently begun installing the DIAMOND LIFT, a full rise telescopic piston lift designed to set new standards in precision heavy duty lifting. Stertil-Koni is headquartered in Stevensville, Maryland and has production facilities in Europe and the U.S.