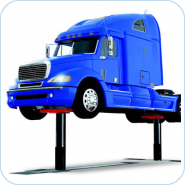 As the exclusive distributor for Stertil-Koni in New Jersey, Hoffman Services is pleased to see extensive coverage of the Diamond Lift.
"Made in the USA at Stertil-Koni's manufacturing facility in Streator, Illinois, DIAMOND LIFT will be available in either a two or three piston configuration with a total lifting capacity of 64,000 lbs. and 96,000 lbs. respectively. Notably, the design of the DIAMOND LIFT's telescopic pistons protects all the critical seals from potential damage by debris."
"A mechanical locking system with hardened, nitro carburized locking rod adds to the corrosion and wear resistance properties of the products. The lift also forgoes the use of traditional rollers, instead employing  an aluminium trench covering system that travels on ultra-high molecular weight polyethylene slides atop a stainless steel guide, which is maintenance free."
"From an environmental standpoint, the Diamond Lift utilizes biodegradable oil and the upper portion of the steel containment is hot galvanized, which provides corrosion resistance at floor level and ensures proper interlock with the foundation."
"The Diamond Lift represents the absolute state-of-the-art in American-manufactured, in-ground heavy-duty lift technology," says Dr. Jean DellAmore, Stertil-Koni USA president. "Initial industry reaction clearly shows that it will set new standards in performance, durability and environmental friendliness."
This inground heavy duty lift features:-
32,000 lbs. capacity per piston
64,000 lbs. capacity in two piston configuration / 96,000 lbs. capacity in three piston configuration
Aluminum trench covers with 13,600 lbs. drive over load
Simple intuitive controls
Electronically synchronized for maximum safety and convenience
Contact us for more information about the Diamond Lift.