Stevensville, MD November 7, 2013 —Stertil-Koni, the leader in heavy duty vehicle lifts – notably bus lifts and truck lifts — today announced that it has been awarded United States Patent 8,523,146 B2 for its innovative shallow pit, heavy duty scissor lift, ECOLIFT. The '146 method patent was issued from the United States Patent & Trademark Office (USPTO) on September 3, 2013 and covers the advanced process by which the Stertil-Koni ECOLIFT utilizes a shallow pit scissor lift to raise vehicles.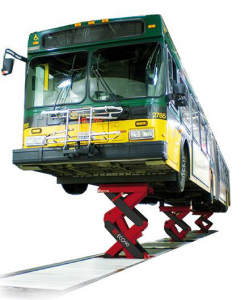 This important industry development also marks the second U.S. patent awarded to Stertil-Koni for ECOLIFT. Specifically, the new patent cites Stertil-Koni for its innovativeness as it pertains to its unique method of lifting. As stated in the patent, the ECOLIFT innovation provides a "preferred embodiment of a system <that> includes a lifting device for lifting a motor vehicle, a support structure for mounting the lifting device in a pit, and a carriage for supporting the lifting device from the support structure and being moveable within the support structure." The patent further acknowledges the proprietary method by which the Stertil-Koni "system also includes a cover, coupled to opposite sides of the carriage; the cover extends away from the carriage and continuously between the opposite sides of the carriage."
On June 5, 2012, Stertil-Koni was awarded U.S. Patent 8,191,865, which first covered the ECOLIFT, including the combination of the scissor mechanism, carriage, cover, and other parts.
In making today's announcement, Stertil-Koni president, Dr. Jean DellAmore, stated: "Our company takes great pride in designing and delivering the very best heavy duty vehicle lifting systems — and industry response to ECOLIFT underscores its distinct advantages in the marketplace. ECOLIFT, which features a lifting capacity up to 90,000 lbs., is the industry's original ultra-shallow, full-rise in-ground axle engaging lift and uniquely combines high pressure, low volume hydraulics, while requiring a mere 3.5 gallons of fluid per scissor." The lift ensures sizeable cost savings on construction and installation and can be utilized in existing workshop pits and even at locations with high water tables.
Concluded Dr. DellAmore, "With the award of the second patent for ECOLIFT, we are extremely pleased that the United States Patent Office has once again acknowledged and officially cited the uniqueness of our product design and method of operation."
About Stertil-Koni USA, Inc.
Stertil-Koni is the global market leader in heavy duty vehicle lifts – bus lifts and truck lifts – and is the preferred supplier to the world's leading companies in the truck and bus industries. Stertil-Koni's breadth of products meets all ranges of lifting needs and includes mobile column lifts, two-post, four-post, in-ground piston lifts, half-scissors platform lifts, and its innovative axle-engaging, in-ground, scissor lift configuration, ECOLIFT. Stertil-Koni has also recently begun installing the DIAMOND LIFT, a full rise telescopic piston lift designed to set new standards in precision heavy duty lifting. Stertil-Koni also recently introduced its new 2-post series, FREEDOM LIFT, with lifting capacities ranging from 16,000 to 30,000 lbs. Stertil-Koni is headquartered in Stevensville, Maryland and has production facilities in Europe and the U.S.