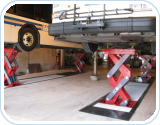 Stertil-Koni, the leader in heavy duty vehicle lifts, announced that it has been awarded a major competitive bid with the Chicago Transit Authority (CTA) to produce and install 54 high-capacity, environmentally friendly in-ground vehicle lifts.
The award calls for Stertil-Koni to deliver the company's U.S. patented ECOLIFT, the industry's first ultra-shallow, full-rise in-ground axle engaging scissor lift. The ECOLIFT uniquely combines high pressure, low volume hydraulics and only requires 3.5 gallons of fluid per scissor. As a result, the ECOLIFT ensures marked cost savings on construction and installation, can be utilized in existing workshop pits and is even suitable for locations with high water tables.
CTA has ordered two models of the ECOLIFT, a 2-scissor configuration with lifting capacities of 60,000 lbs. – ideal for regular transit buses – and a 3-scissor configuration with lifting capacities of 90,000 lbs., well suited for articulated buses. Lifts are scheduled to be installed beginning in the first quarter of 2013.
In making the announcement, Stertil-Koni president, Dr. Jean DellAmore, stated, "We are delighted that Chicago Transit Authority has selected the ECOLIFT for this significant contract. The ECOLIFT is engineered to be high performance, low maintenance, competitively priced and friendly towards the environment. Equally important, Stertil-Koni is also proud to be one of the few lift companies that is helping to create jobs right here in the U.S."
Hoffman Services is the exclusive distributor of Stertil-Koni in New Jersey. Contact us now for information.