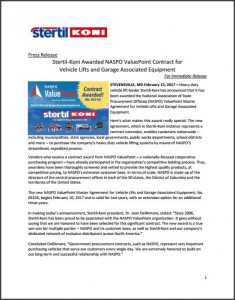 Great news, the National Association of State Procurement Officials (NASPO) has awarded Stertil-Koni the contract for Vehicle Lifts and Garage Associated Equipment (#05316).
In essence, this is a continuation of a procurement contract SK has had with NASPO (previously WSCA) since 2006. The new contract begins Friday, Feb. 10, 2017 and runs through Feb. 10, 2019, with an option to renew for an additional three years.
Here's what makes this award really special: The new agreement enables customers nationwide –including municipalities, state agencies, local governments, public works departments, school districts and more — to purchase our company's heavy duty vehicle lifting systems by means of NASPO'S streamlined, expedited process.
To read the entire press release, click here.