Stertil-Koni, the leader in heavy duty vehicle lifts, has announced that The Leigh and Northampton Transportation Authority (LANta) has selected and
installed a targeted range of the company's in-ground scissor lifts, platform lifts and wireless mobile column lifts for use in LANta's state-of-the-art, bus maintenance facility located in Allentown, Pennsylvania.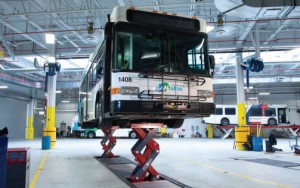 The modern, bright, 31,000 square-foot LANta service center, named the Armando V. Greco Maintenance Facility, represents a $12 million construction project. It replaces an older garage, dating back to 1953, and is approximately three times the size of its predecessor. The facility now serves LANta's fleet of 83 buses, including 24 new hybrid buses.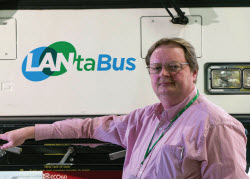 Noted Randy Flyte, Director, Materials and Maintenance for LANta, "Safety is always priority number one – both for our riders as well as for our dedicated team of technicians who service our fleet. That's why we selected Stertil-Koni vehicle lifts, which are engineered to quickly, safely and efficiently raise our vehicles to facilitate the entire range of demanding, ongoing maintenance work."
Heavy duty lifting systems installed by Stertil-Koni's distributor in the region, Alan Tye & Associates, include:
ECOLIFT 60: a 2-scissor configuration of the company's U.S. patented original ultra-shallow, full-rise in-ground, axle engaging vehicle lift. This model has a lifting capacity of 60,000 lbs. and combines high pressure, low volume hydraulics while requiring a mere 3.5 gallons of fluid per scissor and has proved ideal for servicing transit buses and other heavy-duty vehicles with low clearance.
SKYLIFT: a superior, heavy duty platform lift that uniquely combines a clear floor concept while optimizing working space due to its vertical lifting design with no crossbeams or columns. Wireless Mobile Column Lifts: a flexible, truly mobile heavy duty lifting system
Wireless Mobile Column Lifts: a flexible, truly mobile heavy duty lifting system that utilizes reliable hydraulic technology for smooth, efficient operation with low maintenance combined with rapid lifting and lowering.
In making the announcement, Stertil-Koni president, Dr. Jean DellAmore, stated, "In the demanding world of fleet maintenance, customers suh as LANta require heavy duty lifting systems that are safe, dependable and efficient. To fully address these stringent requirements, Stertil-Koni is focused on a single mission: to engineer a broad range of superior lifting systems that are exclusively dedicated to serving the heavy duty market and provide users with the broadest possible "Freedom of Choice.'"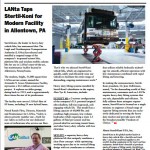 Download the PDF of this article here.