STEVENSVILLE, MD August 8, 2017 – When heavy duty vehicle lift leader Stertil-Koni says it is a leader in its market segment, the recent introduction of the company's ST 4600 4-post lift, capacity 132,000 lbs., provides a strong case in point.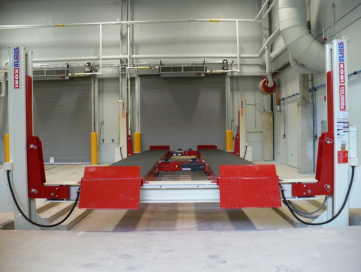 Considered the largest certified lift of its type in North America, it has been engineered to take on the very biggest vehicle lifting challenges anywhere and sports the greatest lifting capacity among Stertil-Koni's growing range of 4- post lifting systems. In making today's announcement, Stertil-Koni president, Dr. Jean DellAmore, stated: "The ST 4600 is designed to deliver an optimal combination of extremely high-capacity lifting along with added productivity, efficiency, safety and durability. It can easily lift oversized vehicles such as fire and rescue equipment, airport tugs, construction and mining machinery and more."
Hallmarks of the extraordinary lift include its 36'3" runway length, state-of-the-art reliable hydraulic
technology, and very low drive on height – ideal for low-ground-clearance-vehicles. It also has the
ability to handle various size wheelbases and raise huge vehicles to a height of 74" in just 190 seconds.
What's more, the ST 4600 can be installed on any suitable concrete floor thanks to Stertil-Koni's
extensive and highly trained distributor network.
Making the first installation possible in North America was New Jersey-based Stertil-Koni distributor,
Hoffman Services. One of its principals, Matthew Morgan, noted: "There are only a handful of lifts like it on the planet, and by installing the first one in the U.S., we are proud to have helped open up a brand new market. For customers that need a large capacity lift, the ST 4600 more than rises to the challenge."
Beyond its sheer power and speed, the ST 4600 also features as standard multiple safety enhancements.
For example, each post includes a height measuring device and an electro-mechanical fall safety system
or "safety catch."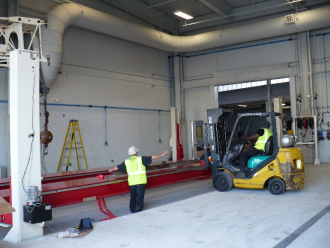 This 4-post lift is ALI certified to the provisions of ANSI/ALI ALCTV-current edition and offers the safety features of a platform lift, in which the vehicle wheels reside on drive-on runways. It also has an automatic overload protection device. Added DellAmore, "What makes the ST 4600 even more unique is that it is electronically and hydraulically synchronized. And, there is a cylinder in every post – meaning there are no chains or cables – eliminating high maintenance."
Other ST 4600 features include an internal air-line kit and optional jacking beams that can lift axles off the runways providing wheels-free access. Additional accessories include LED lighting sets and an anti-skid runway coating. Concluded DellAmore, "Stertil-Koni is extremely proud to deliver the very best in heavy duty vehicle lifting systems. We have seen that the ST 4600 is a real industry workhorse for customers who have extreme, heavy duty vehicle lifting requirements."