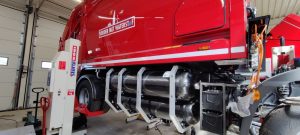 Reducing C02 emissions is swiftly progressing from the exception to the norm around the world. Electric powered vehicles are becoming increasingly prevalent in the transport industry and even heavy duty lift manufacturers Stertil-Koni recognized this need by launching the EARTHLIFT back in 2007 in their efforts to increase sustainability without compromising performance or safety. The EARTHLIFT does a good job at decreasing carbon footprint as a regenerative mobile column lift that recharges batteries during the ascent and decent of the lift. In addition, the lift is fully recyclable though it's designed to last for a long time.
For workshops around North America, C02 reduction isn't necessarily mandated but is encouraged. Stertil-Koni lifts are designed to work in a lot of different settings and on machinery with different specifications which may include Electric Buses, delivery trucks and Semi Trucks that we're starting to see more regularly. Also hydrogen-powered heavy duty vehicles like trash trucks and other large rigs are gaining traction as more hydrogen fueling stations increase in numbers. These zero-emission trends will likely make their way into more and more workshops around the country and Stertil-Koni will also continue to pave the way in ensuring that these vehicles will be accessible and able to be lifted safely. Currently their lifts are used in factories that are manufacturing these vehicles allowing for flexibility and maneuverability without compromising in performance and safety so you be assured that e.
Our work with Stertil-Koni throughout New Jersey has taken us to a wide variety of workshops and vehicles and certainly while the performance is the top reason we go with SK, their innovation is a critical piece to being able to accommodate the various needs of our clients. The confidence we have in Stertil-Koni gets passed along to our clientele as they look to ensure they can handle even the most challenging vehicles.