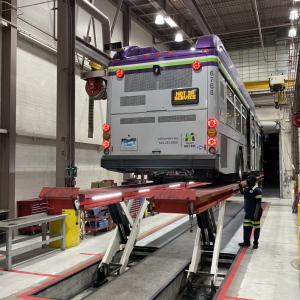 Stertil-Koni is a proven performer for lifting buses of all sizes and seeing them in action is truly a sight. Recently the Valley Metro Regional Public Transportation Authority (RPTA) which serves the Phoenix metro area and operates more than 100 buses. When they acknowledged that it was time to upgrade their hydraulic lifts, they took the opportunity to jump on 4 Stertil-Koni lifts that are proven performers in the industry.
According to Bus Service Delivery Manager at Valley Metro, "To operate an effective, reliable and high performing transit system like Valley Metro, newer technology in vehicle servicing would be key to our success."
2 of the lifts were the SKYLIFT which allows full under-carriage access via two independent runways, vertical lifting, no crossbeams, no overhang, no base frame, dependable hydraulic technology, a super-safe mechanical locking system and free access to the vehicle from all sides. The other 2 were the popular inground, telescopic piston DIAMONDLIFT which is a high-pressure low-volume lift that features electronic synchronization for maximum safety, hard-chrome plated piston rods for superior durability, a mechanical locking system for added safety and a full-color, touch-screen control console.
All lifts offer a safe working operation and optimal performance, something that Valley Metro Regional should see as a priority.