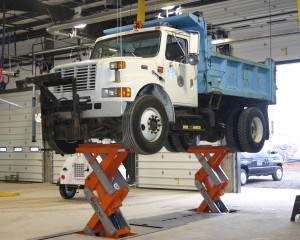 Leading heavy duty lift supplier, Hoffman Services, welcomes the official release and issuance of US Patent 8,191,865 for Stertil-Koni's ECOLIFT. Hoffman Services is the official supplier of Stertil-Koni lifts in the state of New Jersey.
US Patent 8,191,865 covers the ECOLIFT system, including the combination of the scissor mechanism, carriage, cover, and other parts. The release of the '865 patent further solidifies the role of Stertil-Koni as one of the premier suppliers and creative inventors of heavy-duty lifts to the North American market.
"Stertil-Koni lifts are top quality," begins Matthew Morgan from Hoffman Services. "We are proud to be the official supplier of these heavy duty lifts in New Jersey. We welcome the issuing of this patent for the ECOLIFT which we have been successfully supplying since it became available."
The ECOLIFT carries up to 60,000lbs to 90,000lbs and features:
Ultra-shallow 34 inch pit depth, full-rise in-ground axle engaging lift
High pressure, low volume hydraulics using only 3.5 gallons per scissor
Continuous Recess where front bolster recesses flush to the floor anywhere in the front pit travel
Not limited to one pocket location
Double lock jaws made of high strength T-1 steel with a unique press-to-lock function, a safety feature not available on any other axle engaging lift
ALI/ETL certified
Available in various travel ranges
Available with optional intrinsically safe remote pendent
View the ECOLIFT. Learn more about Hoffman Services at www.hoffmanservices.com.
About Hoffman Services
Hoffman Services is one of the oldest and largest hydraulic lift, heavy duty lift and garage equipment suppliers in the United States. It has a reputation for quality, knowledge, and reliability working with some of the biggest companies in the world. Hoffman Services provides all types of lifting equipment and excels in the area of heavy duty equipment. It can assist with in-ground car, bus and truck lifts as well as surface-mounted and portable automotive electric lifts. In business since 1926, Hoffman Services is a company built on trust. Visit www.hoffmanservices.com.
CONTACT: For more information, contact Matthew Morgan on 973-242-6666