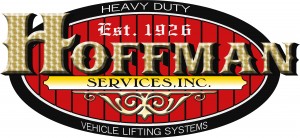 Leading heavy duty lift supplier, Hoffman Services, welcomes the Automotive Lift Institute (ALI) Inspector Certification Program. Currently in pilot phase, ALI has opened registration for its ground-breaking Certified Lift Inspectors training program.
Hoffman Services has played an integral role in devising the program with Matthew Morgan hand-picked to be part of the pilot program. He looks forward to the ability to service the industry under the new safety regulations. This certification requires real world application including practical testing. It officially launches in October 2012 at the SEMA show in Las Vegas.
"Proper vehicle lift certification, installation, and inspection have come under increased scrutiny in recent years by OSHA and other local, state, provincial and federal health and safety officers," explains R.W. "Bob" O'Gorman, ALI president. "This has resulted in an increase in shops looking for qualified automotive lift inspectors. Without a national certification program in place, vehicle lift inspection companies haven't been able to offer independent validation that their inspectors are qualified. The Certification Program will provide third-party assurance that a Certified Lift Inspector has been tested and proven competent to thoroughly inspect an installed vehicle lift and report on its suitability for continued use and/or the need for maintenance or repair. We encourage all vehicle lift inspectors to demonstrate their professionalism and differentiate themselves from their competitors by getting certified."
Applications are open to vehicle lift inspectors with a minimum two years experience. The program includes extensive printed training materials, a six-hour Participants Orientation workshop, a written pre-course exam, a final course exam, and documented practical experience.
Companies with a Certified Lift Inspector on staff will be listed in an online directory on the ALI website. The directory will be searchable by ZIP code to make it easy for customers to find local vehicle lift inspection companies with ALI certified inspectors.
Hoffman Services encourages involvement in this important and comprehensive course. Visit www.hoffmanservices.com
About Hoffman Services
Hoffman Services is one of the oldest and largest hydraulic lift, heavy duty lift and garage equipment suppliers in the United States. It has a reputation for quality, knowledge, and reliability working with some of the biggest companies in the world. Hoffman Services provides all types of lifting equipment and excels in the area of heavy duty equipment. They can assist with in-ground car, bus and truck lifts as well as surface-mounted and portable automotive electric lifts. In business since 1926, Hoffman Services is a company built on trust. Visit www.hoffmanservices.com.
CONTACT: Matthew Morgan 973-242-6666