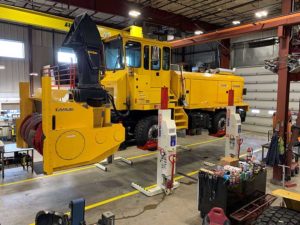 Recently shared by Stertil-Koni is a good insight into extreme weather maintenance for heavy duty lifts as "harsh weather puts vehicle safety, performance, and longevity at risk." Something that Hoffman Services Inc. is all too familiar as weather can sometimes get pretty severe throughout New Jersey and we want our clients to be providing the best possible service to their customers so ensuring their equipment is in top shape through the year is critical.
Stertil-Koni outlines 6 key steps:
1. Schedule Lift Inspections Each year – this one is a no-brainer. Our ALI certified inspectors give the equipment a thorough review annually.
2. Increase Vehicle Washing Intervals – when undercarriages are not cleaned frequently, it can reduce the lifespan of engines and batteries alike. This can often result in added vehicle downtime and unnecessary downtime at that. Our SKYLIFT Wash Bay model is access to the vehicle from all sides, making it easy to keep your fleet clean.
3. Technician Safety – when you're busy, it's easy to overlook this step but keeping your technicians safe no matter what the season, keeps them happy and working. Make sure to emphasize this with your staff.
4. Adhere to Proper Lifting Points – For inground lifts, operators should check that the contact points are properly positioned – a key step that has become even more critical with electric vehicles.
5. Vehicle Lift Stability – winter and fall often brings additional debris inside and outside garages and can sometimes get caught under mobile column lifts. Higher winds may also be a cause for concern so make sure you check conditions and levels to ensure vehicle stability.
6. Go Ergonomic! – minimize back strain on staff with our heavy duty lift accessories. Keeps reduce unnecessary staff days off and doctor visits.
While many of these items are a year-round exercise, extreme conditions can exaggerate their need. We recommend regular maintenance, inspections and even staff safety training on a regular basis to keep your garage in top working order. Read the full press release here.