Dosch-King Co., Inc., since 1926, chooses Hoffman Services Inc. since 1926.
It's pretty remarkable to find another company, in this industry, that has both the name and longevity that we do. Dosch-King Co., Inc. has been in business just as long as us, since 1926.
Dosch-King Co., Inc., the premier company for providing materials and services for the pavement preservation industry, focusing on chip seal, crack seal, and micro surfacing chose Hoffman Services Inc. for their recent project.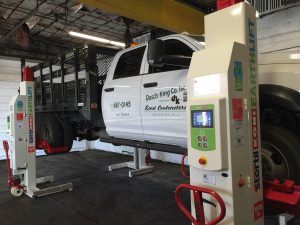 They are truly remarkable in their operation. Their fleet of vehicles can meet the needs of any town or city and their expertise from the two family owners, David and Peter King is unmatched.
Peter King says, "There was no real question when we were looking into going mobile. One of Hoffman Services Inc. owners came out personally, Benjamin Morgan, sat with us, explained to us the systems available, and then was with us every step of the way. There professionalism and expertise in the field of lifts are unmatched. Benjamin and Matt came out and performed the training with us, answering all of our questions. Truly a remarkable family business and we're happy to have them with our family business at Dosch King Inc."
Check out the images on our Facebook page.