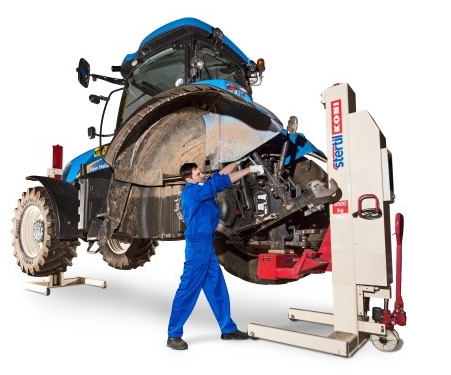 STEVENSVILLE, MARYLAND (PRWEB) SEPTEMBER 15, 2015 – As the agricultural market in North America increasingly migrates to larger, more efficiently run industrial operations, vehicle lift leader Stertil-Koni, has reported growing demand for its portfolio of certified heavy duty vehicle lifting products.
The challenges are clear. Farms in the U.S. now average more than 440 acres and, as of the most recent census, both sales and production expenses are at record highs. Further, agriculture is particularly susceptible to tightening margins, particularly due to the prevalence of high fixed costs – including large farm machinery and vehicles.
"Therefore," noted Dr. Jean DellAmore, president of Stertil-Koni, "improving efficiencies by limiting vehicle equipment downtime in the agricultural sector is of paramount importance. At the same time, farm operations increasingly require ergonomic, safe and time-saving equipment."
Enter the Stertil-Koni portfolio of exceptional heavy duty vehicle lifting systems, which provide complete ergonomic and safe solutions. These are engineered to allow the busy mechanic to stand while repairing or maintaining agricultural vehicles. "The key is," DellAmore continued, "Stertil-Koni's lifts are powerful and versatile, permitting a wide range of machinery and vehicles to be lifted and serviced with the same type of vehicle lift."
Increasingly popular lifting systems used by the agricultural industry include Stertil-Koni mobile column lifts – which are indeed mobile. With lifting capacities ranging from 14,500 lbs. to 40,000 lbs. per column (depending on the model), these wheel-engaging lifts deliver added flexibility, productivity and safety. What's more, in a wireless configuration, the farm operator can realize reduced time in terms of setup, all with no tripping hazard to the technician – as communications cables are eliminated.
Further, certain farms are migrating to platform lifts, which are ideal for tractors, diggers and wheel loaders. The Stertil-Koni system, known as the SKYLIFT, delivers true vertical lifting with no overhang, thus saving space in tight maintenance shops. What's more, the SKYLIFT delivers lifting capacities from 62,400 lbs. up to 156,000 lbs. – all with simple-to-use, intuitive controls.
In addition, other farms across North America are employing 4-post lifts and the Stertil-Koni in-ground piston lift, known as the DIAMOND LIFT. The DIAMOND LIFT is a high-pressure, telescopic in-ground piston lift with a capacity of 96,000 lbs. in a three-piston configuration and was created with both efficiency and the environment in mind. Noted DellAmore, "Our DIAMOND LIFT ensures that hydraulic fluid always remains fully contained and above ground – in a free-standing console that is easily accessible. Additionally, the DIAMOND LIFT enables wheels-free access, making it an ideal choice for routine maintenance, such as servicing brake systems." This lifting approach, like all Stertil-Koni lifts, features electronic synchronization for maximum safety and performance.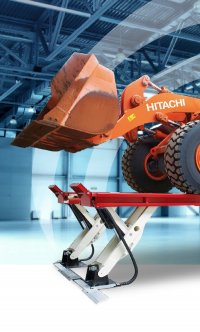 Concluded DellAmore, "Today's farms are increasingly large, sophisticated businesses that require the very best in vehicle lifting technologies. That's why Stertil-Koni is so focused on delivering world-class lifting systems that address this critical market sector and continue to support heightened levels of performance and efficiencies in the all-important world of modern farming."
About Stertil-Koni
Stertil-Koni, a brand of the Stertil Group, is the global market leader in heavy duty vehicle lifts – bus lifts and truck lifts – and is the preferred supplier to the world's leading companies in the truck and bus industries. Stertil-Koni's breadth of products meets all ranges of lifting needs and includes mobile column lifts, two-post, four-post, in-ground piston lifts, parallelogram lifts, half-scissors and its innovative axle-engaging, in-ground, scissor lift configuration, ECOLIFT. Stertil-Koni is also now installing DIAMOND LIFT across North America, a full rise telescopic piston lift designed to set new standards in precision heavy duty lifting. Stertil-Koni USA is headquartered in Stevensville, Maryland. Stertil-Koni has production facilities in Europe in The Netherlands, and in the USA in Streator, Illinois.