Hoffman Services is excited to hear that our partner and leading heavy duty lift company Stertil-Koni has been chosen to provide their scissor lift system ECOLIFT's, for their new Stoney Transit Facility bus storage and maintenance structure which is estimated to be the largest indoor compressed natural gas facility in North America.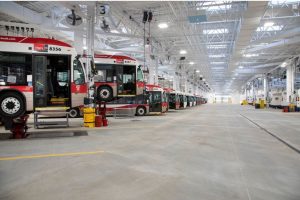 The facility took 3 years to complete and contains 36 service bays including the following lift equipment:
17 inground Stertil-Koni ECOLIFT 60 models, each with two scissors for a total lifting capacity of 60,000 lbs. per lift;
15 inground Stertil-Koni ECOLIFT 90 models, each with three scissors for a total lifting capacity of 90,000 lbs. each;
 Two Washbay platform SKYLIFT models, each with a lifting capacity of 62,400 lbs.; and
 10 Wireless Mobile Column Lifts, each with a lifting capacity of 18,500 lbs. per column.
According to Danny Panday, senior project manager of Transportation Infrastructure for The City of Calgary, "The City decided to require bidders to provide scissors lifts for the facility as it was deemed the best available lift. This conclusion was based on visits to other transit facilities and the recommendations of industry consultants. Additionally, the lifts were identified as the safest in the industry."
Stertil-Koni distributor Westvac Industrial Ltd was given the responsibility of implementing the system throughout the facility. View the full press release.